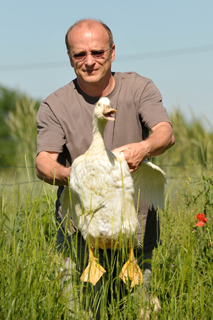 About us
Our company was established in 1997. From the beginning our activity consists of 3 main operation:
a.) Breeding and slaughtering of fatty duck and goose

We breed and slaughter 200.000 pcs/year fatty duck and 60.000 pcs/year fatty goose.
The meat and foie gras derived from above quantiy are sold all over in Europe, Far-east and domestic markets.
We hire the slaughtering capacities , we slaughter our ducks at HU-194, while our geese at HU-822

b.) Exporting of agricultural products to be of Hungarian origin

Exporting of pork, beef , veal , gibier, poultry and lamb products to Europe and the Far-East.

c.) Representing Rheon/Japan food producing equipment manufacturer in Hungary

More than 30 companies make various filled food products ( such as filled dumpling, filled marzipan or chicken kiev ) by the Rheon food producing equipment.
Our speciality is to introduce new products and conquer new markets. We play pioneering role in creating several new products , markets and copyrighted production technology.